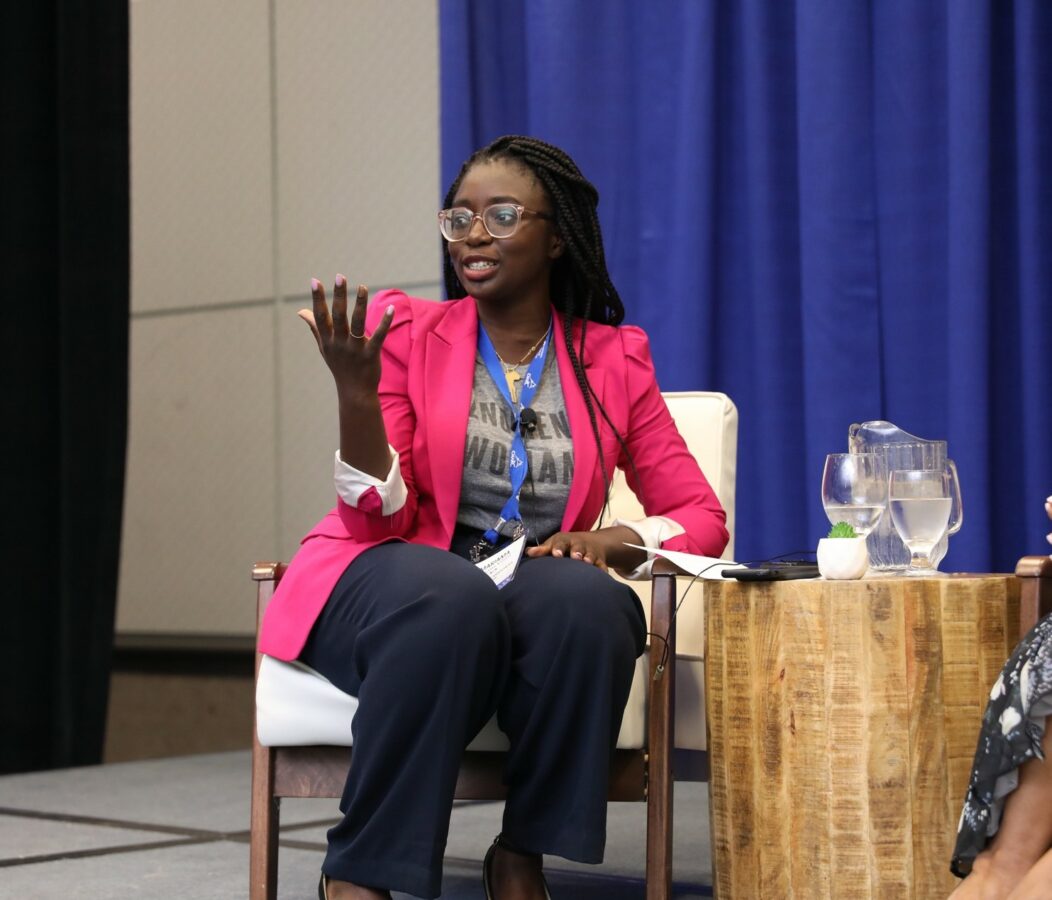 Mariama N'Diaye, the inaugural Morningside Design Academy fellow is working with MIT GOV/LAB on issues related to civic, and urban policy design. 
The MIT Morningside Academy is a new hub for cross-disciplinary education, research, and innovation, and is aimed to address pressing challenges such as public health, climate change, transportation, and civic engagement. The Morningside Design Academy Fellowship is a pilot project that allows design students to work on different projects of interest, and collaborate with other labs. 
Our Policy & Communications Associate, Akshat Singh spoke with Mariama about her past experience, her motivation, and her plans for her time at GOV/LAB.
Akshat: Could you please tell me a bit about your academic and professional background? What is your current area of interest and how does your work at MIT align? 
Mariama: For my undergraduate degree, I studied Political Science, and got very interested in how different nations navigated similar challenges. This ultimately initiated my fascination with how cities operate. For my thesis, I looked at the history of hip-hop in Paris. Conducting an ethnographic study, and looking at how black men navigate anti-Muslim, and anti-black spaces in France, I got interested in how policy affects citizens' daily lives. After graduating, I worked with Bloomberg Associates and looked at systemic challenges that cities face such as homelessness, education, and workforce development. Soon after, as a Fulbright scholar in Italy, I started researching how Milan designed its social welfare, food, housing, and housing policies, and how the immigrant communities shaped the process. I realized that design thinking is a common thread connecting several issues, and decided to study it further at MIT. 
Akshat: You're pursuing an MBA and Master in City Planning (MCP). Why did you get interested in this combination, and what do you think are the common areas between the two? 
Mariama: MBA & MCP have very different values. MCP is about how the world works, and how it ideally should. On the other hand, MBA provides tools to bring concepts to the market. There are three reasons why I chose to go to the business side. First, I wanted to learn how to be entrepreneurial. Second, I wanted to look deeper into what design thinking in the private sector looks like. Third, I wanted to learn how to be a better storyteller. On the MCP side, I wanted to learn about stakeholder management, technical tools, such as geospatial analysis, and the ability to develop a personal theory of practice . One common area between the two degrees is that they are both heavily influenced by design thinking.
Akshat: You're the inaugural Morningside Design Academy Fellow at MIT GOV/LAB. Could you tell me a little about your work at the  Morningside Design Academy and  how it intersects with MIT GOV/LAB? 
Mariama: Since the fellowship is very recent, we as fellows predate even a building! This allows us to shape what the academy fellowship will potentially look like.  Currently, it is a group of thirteen people who are passionate about design for very different reasons. It is a very collaborative environment, and we are given enormous intellectual freedom to pursue our own design related interests. For instance, all fellows receive a 'no strings attached stipend', and additional funds for our research. 
At GOV/LAB, I wish to focus on how cities can better leverage co-design, and organizational design while working with residents, regardless of what challenge we're trying to address. I will work to develop the Lean Governance Innovation Design (LGID) curriculum in Sierra Leone, and Nigeria. Additionally, I will also work with the Directorate of Science, Technology and Innovation (DSTI), and the Tony Blair Institute (TBI) in Sierra Leone, to write a case study documenting the internal processes of the organization. The objective is to create roadmaps for setting up similar institutions for innovation in Africa. I wish to use these projects, and work with government stakeholders to observe how innovation happens on the ground level.  I want to understand what partner innovation labs in the Global South are there, and how they have been doing. How do we democratize the local knowledge that we're building?
Akshat: At MIT GOV/LAB, you're working closely with the governance innovation team. Why do you think that governance innovation is relevant currently, and what role does urban design play in it? 
Mariama: Cities regularly deal with urban planning challenges because they are in the urban environment. Everything that dictates people's daily lives–  housing, education, trees, bike access–  it is all ultimately designed by city officials. 
In Sub-Saharan Africa, things are moving so quickly, and there is an unprecedented opportunity because we get to design, think and create new worlds. We can differentiate ourselves from the world, while acknowledging the colonial histories, and learning from the mistakes of other countries. There is no right time for innovation but we are certainly at a critical juncture. It would be wrong to say that we want to 'create' innovation because I believe that innovation has always existed, and will continue doing so.I seek to uplift current design practices on the ground while adding on new tools to make sure innovation is imaginative, creative, and productive in making cities more resilient to challenges such as climate change. I believe that all problems ultimately relate to innovation. The issue isn't often the problem, but the approach we take to deal with it. No matter what issue your country deals with, innovation can allow you to deal with it efficiently. Design isn't an end, it is a process.
Akshat: What's your favorite pastime (when not juggling between two masters, and the fellowship!)?
Mariama: I absolutely love playing 'Wordfight' and spend most of my free time doing it! It's a more competitive version of Wordle, and allows me to stay in touch with some friends. Additionally, I am currently helping my sister as the Chief of Staff for her beauty startup, Ami-colé. The company is named after our mother, and I look after management, marketing, and finance.
Header: Mariama speaking at the National League of Cities 2018 City Summit.