This post was originally featured on the Mobilisation Lab (MobLab) website and is available online.
How to teach grassroots organising and leadership on WhatsApp
South African-based Grassroot is testing new ways to train and connect community organisers online. And, yes, this approach is approved for social distancing and Covid lockdowns.
WhatsApp is one of the most widely-used communication applications in South Africa, and it's often in the news for misusage, such as disinformation and discrimination. However, WhatsApp can also be a useful tool for organisers scrambling to figure out how to move training or people development online when face to face interaction isn't possible.
"We tried bots, and all sorts of other tech-first ideas. Then we realised —training works best in groups, but [it] is hard online, and WhatsApp is great at groups, but only when well structured. So why not try to make online training work through structured WhatsApp groups?" related Luke Jordan, the founder of Grassroot, an civic technology organisation that is rethinking how existing technologies can be used to build sustained social movements.
A new approach to civic pedagogy
Last year, Grassroot developed a first-of-its-kind training course entirely on WhatsApp aimed at improving leadership capacity of community organisers and building deep networks on social technology. The idea was to use Whatsapp to build more structured groups and provide proactive mobilisation tools.
WhatsApp offers several advantages compared to traditional Massive Open Online Courses (MOOCs) or Zoom-based courses, which place heavy demands both on users' connectivity and their ability to reliably be home with no distractions or background noise at a certain time. These kinds of training are usually not feasible for grassroots community organisers, especially in low-resource settings with limited connectivity, where environments are unpredictable. Participants in a WhatsApp-based course get to use a medium which they already know well and  allows for rich media interchange (via voice notes, infographics, etc.), without having to worry about connectivity as much.
The Grassroot course "Leadership through Storytelling" draws from Harvard Professor Marshall Ganz's work on Public Narrative, which uses storytelling on individual and collective values and experiences to inspire leadership and commitment to social change. The course also covers content on local laws and legislation, including critical rights to water and housing. Over the course of five months, Grassroot trained more than 60 participants in five classes, each with 10-15 participants who engaged in eight interactive sessions on WhatsApp, plus small group coaching (details on how the course worked in our guide).
The course is tailored for community organisers in low-income areas, working both formally and informally, and wouldn't ordinarily have had the opportunity to attend an in-person training. Target participants are often based in townships, which are racially segregated communities set up under the Apartheid regime in South Africa and under-serviced by the government. Some of the organisers represent formal organisations, like the South African National Civic Organisation (SANCO) or community leadership forums. Other participants support informal groups, like Londiwe Landa from Zonkizizwe, a township outside Johanneberg, who is volunteering at Impumelo Tethu Zk ("Our success" in isiZulu), a community development organisation. Another course participant, Itumeleng Tsotetsi from Vosloorus township, who is now a coach for the Grassroot WhatsApp course, is taking part in a community wake up centre focusing on youth education and employment.
To assess course content and the promise of the platform for building more sustained grassroots movements, Grassroot partnered with the MIT Governance Lab, who supported exploratory user research and conducted a mixed methods evaluation, including a phone survey and qualitative interviews. Though additional iterations on the course are required, initial results suggest that the WhatsApp course was able to connect grassroots organisers in a novel way that encourages learning and information exchange (more on the results in our brief).
"As a campaign organiser myself, especially working with under-resourced communities, I know how hungry community organisers are for knowledge and skills. Educational material is available everywhere but it remains out of reach to us township people. Teaching on Whatsapp felt impossible… until right after it was done," said Katlego Mohlabane, Grassroot Outreach Coordinator & Course Facilitator.
When South Africa went into lockdown in late March 2020 Grassroot was already preparing to teach its second class on WhatsApp. "Organising for Community Concerns" focused on organising tactics, recruitment strategies, local government structures, and various aspects of starting, running and maintaining a campaign. An important finding from MIT's research is that many organisers aren't recruiting other community members for sustained engagement in campaigns or long-term social movements. As a result, we developed the second course to focus primarily on hard tools and strategies. Throughout the process of building and testing two courses, we learned a lot about how to teach on WhatsApp, what works and also what does not work.
Getting started: the basics for teaching on WhatsApp
We put together a guide with all the details (available online along with examples of course content), but we also wanted to summarise a few tips for teaching on WhatsApp.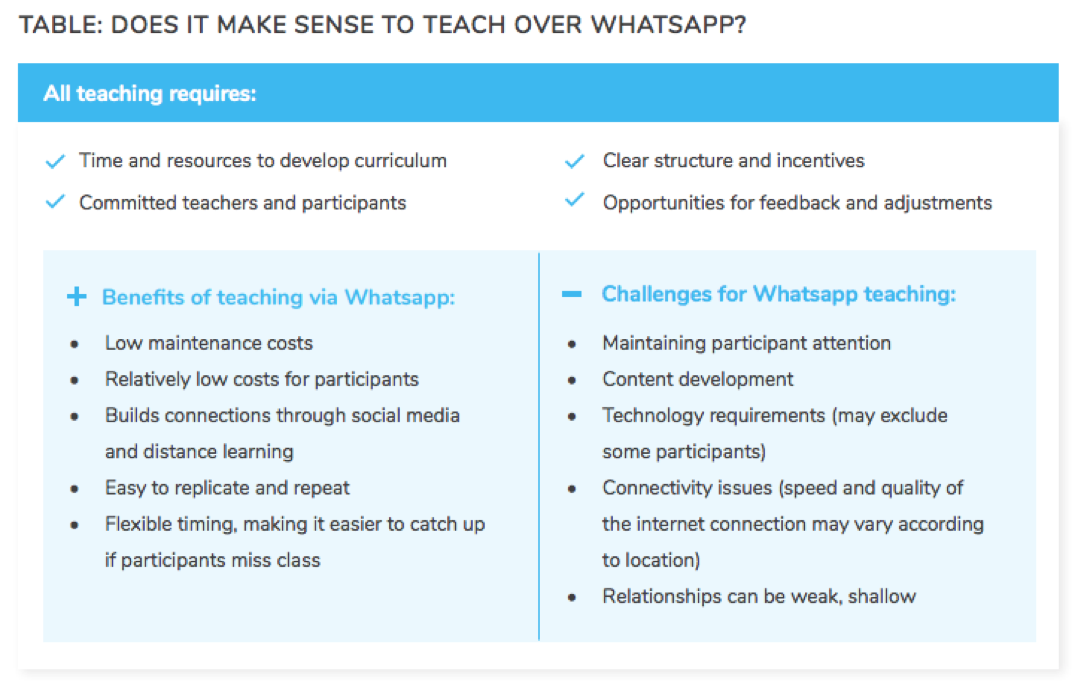 (Infographic from the Guide developed by Grassroot and MIT GOV/LAB.)
Decide if teaching on WhatsApp makes sense for your community. Teaching on WhatsApp has both benefits and drawbacks. For example, keeping people's attention online is hard. Ensuring that people are incentivised to spend time and data in low-capacity settings is further challenging. See the table below from our guide to map out if an online course meets you learning goals (it's ok if the answer is "no").
User research, user research, user research. Ok, you've decided to move forward with teaching on WhatsApp, but how do you know what the demand is for online learning? This doesn't need to be high-tech — talk to people, conduct mini surveys — make sure you've clearly identified your target audience and their learning needs.
Put together a super teaching and coaching team. Because the course is online, making sure you have a great team to show the human side is critical. The team should be trained in the course material, ideally have completed the course, and, importantly, should be part of the communities you are engaging. Language and local pedagogy matter, so having a team that is expert, diverse, and represents the community is key.
Set class rules, norms, and incentives. Building relationships online are similar but also very different from normal relationships. We discovered that you have to reimagine social norms and demonstrate positive behaviour using different mediums. The infographics below show examples of how we set and reinforced community standards in the course. In the first cohort, participation rates were low, so we made a mix of adjustments to the structure, the coaches' roles, and the content delivery to see what worked best. We also experimented with adding behavioural incentives (recognising people's efforts and participation) and later introduced modest monetary incentives (to cover data and airtime) to help maintain participation.
Design, try it out, rip it up, and do it all again. User design is by definition messy. You're essentially trying to prove your best instincts right or prove them totally wrong and then bounce back and try again. Failure is common, and it's how you learn from what does not work that matters most. In early course development we held in-person focus groups and ran simulations in the office. We made changes to the materials every day to test out new aspects – simplifying language, cutting and adding sections, adjusting pedagogical logic and delivery. The process was exhilarating and exhausting, we learned quickly, putting those lessons into effect, and the results were significant improvements to the course.
Learn, document, share. Time is always tight and people are busy (we get it), but we can't emphasise enough the importance of writing down what you learn and sharing those lessons. For us, key learning moments came in figuring out how to appropriately contextualise the content for organisers living in townships and how to integrate incentives to motivate consistent participation. Another challenge was figuring out how to coach the coaches and getting the right dynamic between the large main group and the small coaching groups. Ultimately, we can't improve as a learning community if we aren't willing to openly communicate our successes, and also our failures.
We know information overload and technology change happens at an overwhelming pace and it's hard to keep up. Recognising that this pandemic is testing our resilience to the max and exacerbating existing inequalities, we are looking for positive outcomes and new approaches to reach and engage our communities now and for the future. We'd be super happy if other people want to pick up and experiment with teaching online via WhatsApp. If you use our guide or have lessons from teaching on WhatsApp, we'd love to hear about it. Please get in touch contact@grassroot.org.za and mitgovlab@mit.edu.
Related resources:
Details on the pilot course and a guide for teaching on WhatsApp: "Teaching on WhatsApp: Leadership and Storytelling for Grassroots Community Organisers".
What does a WhatsApp course look like? Course materials for the first two sessions available online.
Research results from the pilot "A Novel Approach to Civic Pedagogy: Training Grassroots Organisers on WhatsApp".
Grassroot's Bongani Sibaya supports user research for the course outside Johannesburg.