MIT GOV/LAB hosted four iterations of the Political Behavior of Development (PBD) Conference from 2016-2019 on campus to convene scholars who are developing new theories and gathering evidence on the myriad ways in which citizens, government actors, and informal elites behave in developing countries. Below is an infographic showing high-level conference outcomes.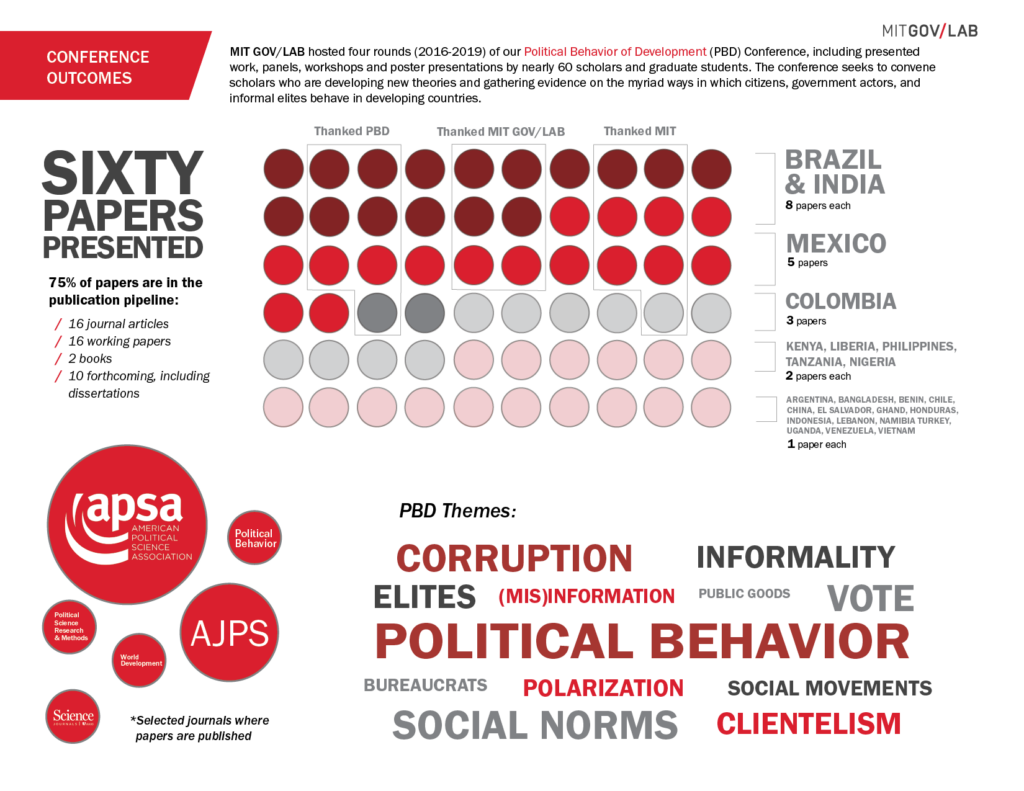 The PBD Conference emphasizes different themes each year, which are announced in an open call for abstracts. A committee of faculty and students determine each year's theme and participate in the selection of abstracts. Past topics of interest include:
How citizens, bureaucrats and elected officials form attitudes, opinions, and beliefs that influence overt behaviors, such as participating in social movements, protest, interactions with the bureaucracy, contributions to public goods, participation in clientelistic exchanges, and voting
Corruption, (mis)information, and conflict; politics of land, and traditional and non-state elites; gender, race, identity, and colorism in belief and attitude formation; social institutions (e.g., social norms and informal institutions)
Urbanization, informality, and migration; use of "big" data to understand political behavior; bureaucratic behavior; justice and judicial authority; social psychology in development; trust and polarization; political behavior in authoritarian contexts
By fostering a conversation among scholars working on a range of behaviors in diverse contexts, we hope to concretize and discuss what constitutes (and how we should understand) political behavior in developing countries. For reference, past conference agendas are available online for PBD19, PBD18, PBD17, and the inaugural PBD16. This conference also builds on our Political Development of Behavior Curriculum.
The inaugural PBD conference was spearheaded by Leah Rosenzweig and Tesalia Rizzo. Subsequent iterations were planned with support from the following student committee members: Benjamin Morse, Nina McMurry, Guillermo Toral, Minh Trinh, Sean Liu, Blair Read, Ying Gao, Stuart Russell, Nicole Wilson, and Elizabeth Parker-Magyar.
Image from Wikimedia Commons.