This article was written by Alisa Zomer and Selmah Goldberg for the Integration and Implementation Insights (i2insights) at Australia National University. The complete article is available online with excerpts below, and the complete Risk and Equity matrix can be found online.  
Managing risk and equity in collaborative research
How do the perceived costs, benefits and risks that researchers envision compare to reality when a project is implemented? How can we best support equitable exchange and decision-making for all actors involved in research study design and implementation?
We have developed a risk and equity matrix to stimulate systematic consideration of potential impacts for stakeholders, researchers and others involved in a research process, to ensure that risks and benefits of research collaborations are distributed in a more equitable manner.
The risk and equity matrix is meant to:
Kickstart difficult conversations on topics that are often thought about, but not captured or discussed during the collaboration process;

Systematically and transparently lay out imbalances and power asymmetries before research begins;

Encourage teams to spread risk and benefits more equitably;

Help teams articulate and document common knowledge, build trust, and set the foundation for an open, honest working relationship;

Provide teams with a benchmark or baseline to revisit and revise original decisions about the collaboration design;

Document the collaboration process for use in research reports for partners and in annexes for pre-analysis plans; and,

Help donors understand potential impacts of proposed projects and processes to make better decisions about which research projects should receive funding.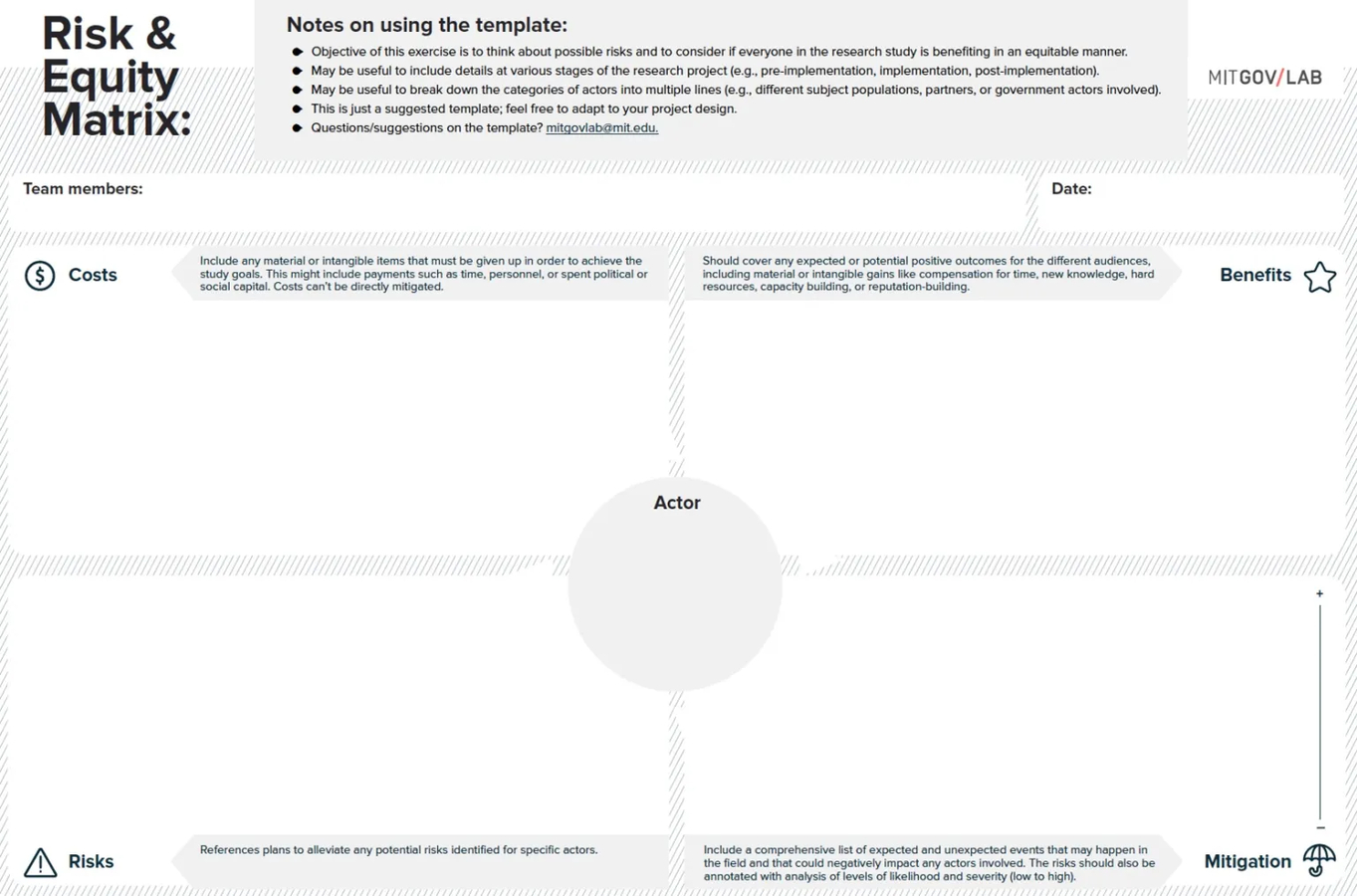 […]
Would you find such a matrix useful in your research? What tools or processes do you use to ensure risks and benefits of research are more equitably distributed? Are there other factors or processes that should be taken into consideration based on your experience? We'd love to hear your thoughts and comments on the matrix.
Read the complete article online.